Renewable Energies should be considered at all times because;
It has taken nature millions of years to create fossil fuels yet mankind has exhausted 80% these resources in 150 years.
Solar Energy is an inexhaustive source of power.
Solar irradication can generate up to 70% of the total hot water required for a domestic dwelling.
Solar Installations can be taylor made to any size, demand and specification to suit your individual requirements.
It is a clean, efficient source of heat and will serve the environment.
Active Solar Heating is one of the primary ways for building to use solar energy. This technology uses solar collectors to transform sunlight in to heat for space heating or hot water heating.
Solar Water Heating is the most common application of active solar thermal in Europe. A correctly sized solar water heating system can cover 50 to 60% of your hot water heating requirements with free solar energy.
A Solar Thermal System providing space and water heating is generally referred to as a solar combi - system; generally sized to cover 30 to 40% of the annual heating requirement of a house in Northern Europe. In Ireland, a solar combi - system using air as a heat transfer medium is gaining in popularity and reputation.
It has the advantage of combining solar heating and ventilation throught the same system. It is particularily suitable to low energy high efficiency homes. Up to 2005 over 3000 homes in Ireland used solar heating system compared to five million in Europe.
Passive Solar Architecture is a building design approach which seeks to;
Maximise the solar gains in the building through ensuring an efficient layout and glazing.
The avoidance of heat loss through ensuring a high level of insulation and air-tightness of the building.
Ensuring a high level of comfort through ventilation and daylighting
Anyone building a new house or refurbishing an existing house should apply these passive solar principles and can reduce their heating requirement by up to 80% at little or no cost.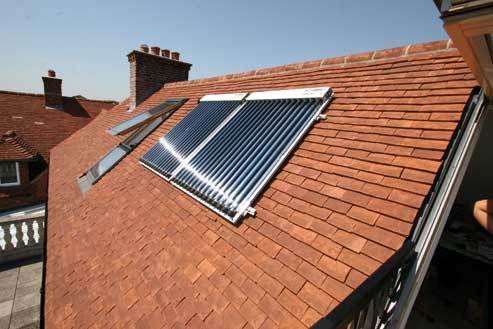 Please send your queries to
Michael